Strategy to lead creative
"We're growing fast, what if we think we're one thing and we're wrong, can you help with that?"  I have the words wrong but the intent is correct. When I met Christian Chia for the first time (durning our final pitch to win the client) this is what he said to me. This is what he and his team wanted to know.
As your organization scales it become increasingly more important to know who you are and actually be correct! It is one thing to think you're good at something, it is a whole different world when facts deeply support everything you say.
Our initial engagement with OpenRoad was about understanding who they are and what they stand for. We did this over a six month project where we worked closely with the a group of executives including Christian. To put it very simply, if we can accurately understand how you got to where you're at [in their case, 1 Billion in revenue and 1,000 employees] then that becomes the base for strategy moving forward. That is your base.
Unlimited Possibilities Ahead. This statement is true to both OpenRoad and you the consumer. This is the boiling point of who they are and how they have related to the markets they serve. Think about it from your perspective. What does the future hold for human mobility? Will cars fly, what does it mean to have a self-driving vehicle? How fast will they go? These questions can go on and on as the future is unwritten and the possibilities are endless. With OpenRoad's size, thinking, and future forward disposition they have an advantage here and can help you and I experience the future in a more personal way. OpenRoad DNA
There are many reasons OpenRoad has seemingly come out of nowhere in the past two decades and are now the largest auto-group in British Columbia. Some of these reasons are trade secrets and I can't just add them to this blog post but others are more visible and apparent. For instance, they have a habit of over investing in the dealerships they create [they put more money in than the OEM requests], they go further. They built a luxury dealership cluster in Langley BC when there wasn't one. They also partnered with their biggest competitor to bring Richmond a Porsche dealership. If your competitors become a strategic advantage [which you initiate] then you have just changed the rules.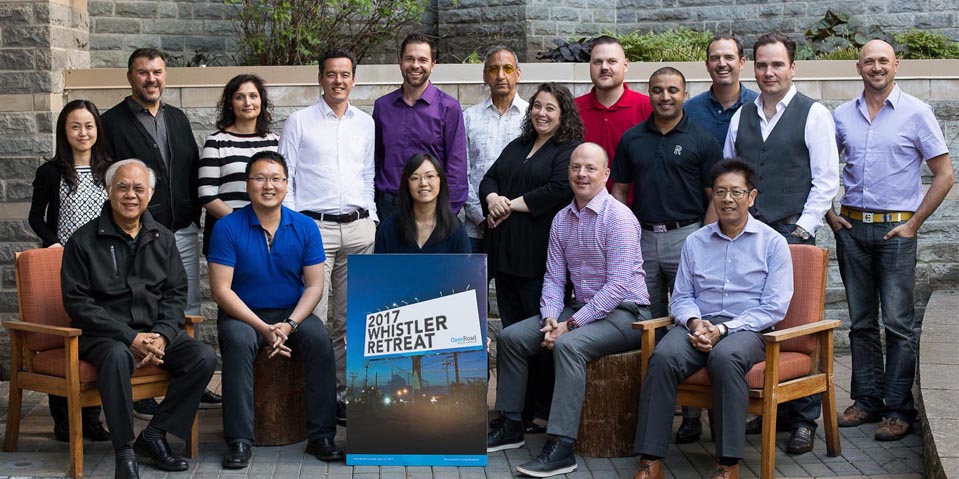 "Living Blueprint painstakingly took our top executives through the "Monster" process where over the 5-month period we moved from dialogues and debates to a common understanding of what makes OpenRoad tick. The essence of our discovery with Living Blueprint has given us the insight, alignment and tools to move boldly forward with a clear intent both internally and externally. I would highly recommend any leader who works with people to explore the "Monster" process with Living Blueprint."
Christian Chia
CEO
OpenRoad Auto Group